Arizona Sustainable Cities Series: Phoenix
In anticipation of the September 25th, 2012 Mayor's Forum on Sustainable Cities, hosted by the ASU School of Sustainability, we are spotlighting the cities of Mesa, Tempe, and Phoenix in preparation for discussions on sustainable policy and governance. Phoenix is the first installation of our September Sustainable Cities theme.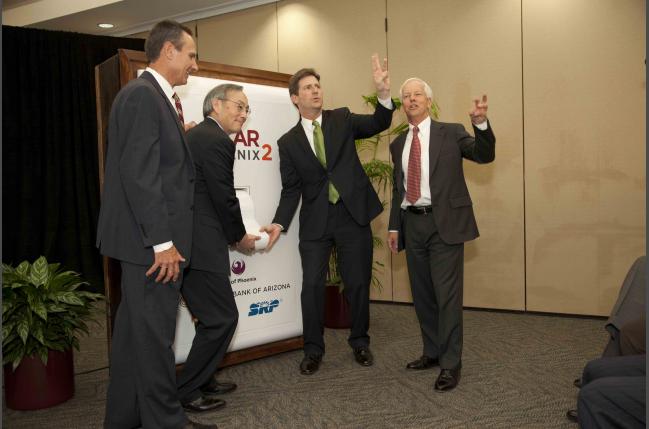 Mayor Stanton with Dr. Steven Chu at the unveiling of Solar Phoenix 2. Photo by Department of Energy.
The City of Phoenix boasts a variety of green projects. Some of the notable solar installations include community centers, transit canopies, city park lights, restroom facilities, and more. A full list (including non-solar renewable energy projects) can be found on the City of Phoenix website. Additionally, under the leadership of Phoenix Mayor Greg Stanton, the city of Phoenix has partnered with National Bank of Arizona, Arizona Public Service (APS), Salt River Project (SRP), and Paramount Solar to bring more cost efficient, sustainable solar energy options to the Phoenix area through the Solar Phoenix 2 initiative.
Some of the key components of Solar Phoenix 2:
By the end of 2012, it is expected to put solar panels on 1,000 Phoenix roofs and save users 10-15% in monthly energy costs
It is expected to create 150 jobs and pour $25 million into the local economy
It is currently the largest city-sponsored residential solar program in the country
Solar Phoenix 2 arose out of Solar Phoenix, a prior city-wide initiative that proved successful in 2010 by providing residential solar options to 400 customers, generating 2.8 MW of solar power, and contributing $26 million to the local community.
In June of this year, Mayor Stanton and the Phoenix City Council declared June 20th "Solar Day" and recognized solar leaders from a variety of Phoenix districts. Leaders were selected based on their contributions to advancing solar power in the Phoenix area, helping to make the city a leader in sustainability.
In his State of the City Address earlier this year, Mayor Stanton placed emphasis on the promising growth in bioscience careers here in the Valley, the advantage of public-private partnerships, and the necessity of making Phoenix a national solar leader.
"By the end of 2012 Phoenix will be double the amount of solar cells on city buildings. This is in addition to the Rental Car Center at Sky Harbor Airport that opened earlier this year with one of the largest solar arrays of its kind in the country.
We are leading the way. And we will continue to join the best and brightest in our community to push the envelope and build a brighter energy future.
To become a true national leader in green and sustainable industries sustainable thinking must become a fundamental part of our culture and permeate all of our thinking at the city of Phoenix.
Which is why, as promised I have appointed a Sustainability Advocate to work directly with me in the Mayor's Office. And why we have convened a community-based Sustainability Advisory Committee. We are integrating sustainable strategies into our everyday operations and long-term decision-making. Sustainable thinking can provide solutions to some of our city's most vexing challenges." (Transcript available)
Phoenix Sky Harbor International Airport has also gone solar, as Mayor Stanton noted. Atop the rental car center sits 12,000 solar panels generating 5.4 MW of energy, providing over 50% of the facility's power needs. Additionally, Sky Harbor has its own set of green initiatives and is working diligently to reduce the environmental impacts of travel.
Sky Harbor solar panels. Photo by Sky Harbor.
We commend Phoenix for quickly becoming a leading city in solar energy and Mayor Greg Stanton for his solar efforts. Tune in on September 25th for the Mayor's Forum!
Written by Sydney Lines, ASU LightWorks
Additional information:
Follow Mayor Stanton on Twitter: https://twitter.com/MayorStanton
Mayor's Forum Flyer (PDF): http://sustainability.asu.edu/docs/gios/events/sustainability-series/2012/mayors-forum-2012/mayors-forum-2012.pdf
Mayor Stanton's Guest Post for the DOE: http://energy.gov/articles/arizona-helping-communities-realize-promise-solar-power
Phoenix Sustainability Initiatives: http://phoenix.gov/greenphoenix/index.html